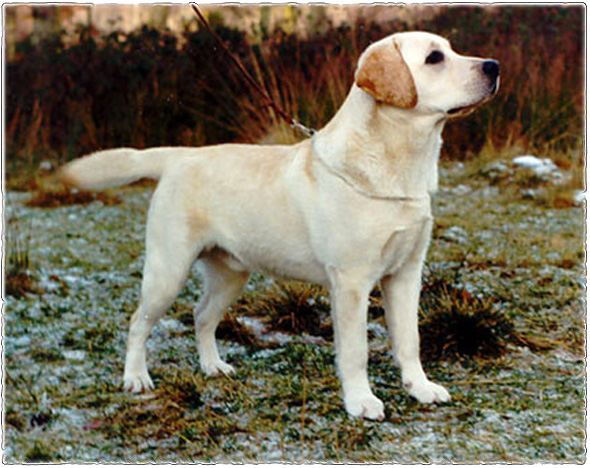 Champis 9 months
Sire: Minnows Winter Whizz
Dam: Sandylands Catch Penny
Born: 7 March 1987
Hips: Normal/UA - Elbows: 0-0
Eyes: Star Cataract/BP katarakt
Show Records:
4 x CC/Cert (NRK, SSRK, SKK) CACIB,
4 x BOB/BIR (SSRK, SKK),
BIS-2 & BIS-4 (SSRK),
BIS-2 Progeny Group/Avelsgrupp (SSRK)
Field-trial test:
1st Youngsters Class/Unghundsklass (SSRK)
Owner:
Mrs Charlotte Lindell (Minnows)



Pedigree
Caccia Monsignore
Minnows
Winter Whizz

INTUCH NORDUCH
NV-78
Licithas Blizzard

INTUCH NORDUCH
Baronor Phoenix

GBCH Sandylands Mark

Baronor Vesta

NUCH SUCH
Licithas Poppet

Sandylands Be Sure

NJCH Licithas Pinolita

Sandylands
Poser

GBSHCH
Poolstead Problem

GBSHCH AUSTRCH
Sandylands My Lad

Poolstead Pussy Willow

GBSHCH
Sandylands
Midnight Magic

GBCH Sandylands Mark

GBSHCH Sandylands
Katrinka of Keithray

GBSHCH AMCH
Receiver
of Cranspire

NLCH
Cranspire Skytrain

Cambremer Petrocelli

Poolstead Purpose
of Cranspire

Polly's Pride
of Genisval

GBSHCH Newinn Kestrel

Heatherbourne Genista

GBSHCH
Sandylands Bella

GBCH
Squire of Ballyduff

GBCH Ballyduff Marketeer

Sparkle of Tuddenham

GBSHCH Sandylands
Longley Come Rain

Sandylands Charlston

Longley In Tune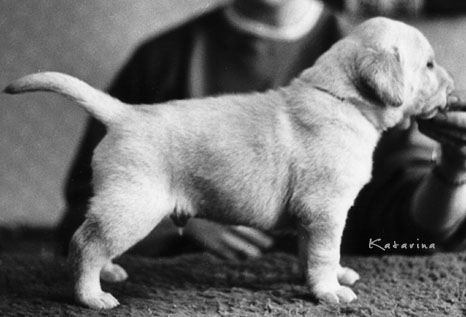 4 weeks

Caccia Monsignore var Sandylands Catch Pennys förstfödda valp och även den första valpen som föddes med kennelnamnet Caccia.

Champis är precis den typ jag fortfarande strävar efter, inga överdrifter, alltigenom rastypisk, både i sinn och skinn.



Caccia Monsignore, our first born puppy out of Sandylands Catch Penny and the very first puppy born under the Caccia prefix.

Champis was of the type I still strive for, no exaggerations, breed type throughout body and mind. Still my favourite.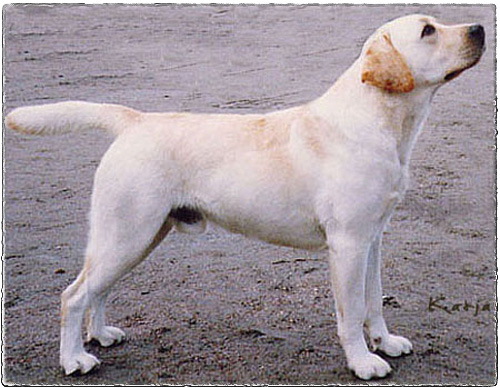 17 months

17 månader gammal vann Champis Cert, BIR, BIS-4 på utställning dag 1. Nästa dag fick han en 1:a i Ukl på jaktprov - i sanning en Dual-purpose prestation!

Dag 1:
1988-08-27 Ruddalen (SSRK)
Cert, BIR, BIS-4
Domare: Jens-Erik Sönderup

Dag 2:
1988-08-28 Hunneberg (SSRK) - 1 Ukl Jaktprov
Domare: P. Rönnow-Kjeldsen



At 17 months of age Champis won CC, BOB, BIS-4 at a Championship show day 1. The next day he won a 1st at a Field-Trial test - truly a Dual-purpose achievement!

Day 1:
27.08.1988 Ruddalen (SSRK)
CC, BOB, BIS-4
Judge: Jens-Erik Sönderup

Day 2:
28.08.1988 Hunneberg (SSRK)
1st Youngsters Class F-T
Judge: P. Rönnow-Kjeldsen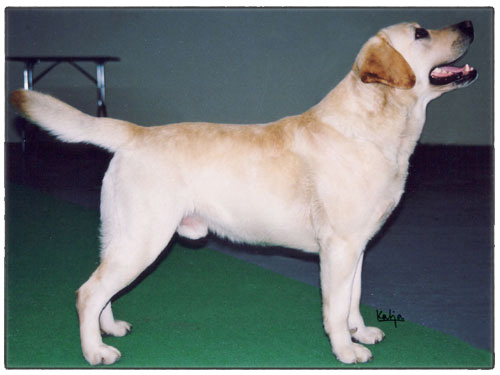 3 years

1991-10-26 Jönköping (SKK)
BIR, CACIB.
Domare: Per Iversen och Per Svein Aasegg, Norge.
170 hundar var anmälda, vilket var rekord på den tiden. Champis var då 4,5 år gammal.

Caccia Monsignore lever vidare genom sina barn, barnbarn och barnbarnsbarn, som inkluderar såväl utställningschampions som jaktchampions.



26.10.1991 Jönköping (SKK)
BOB, CACIB.
Judges: Per Iversen and Per Svein Aasegg, Norway.
170 entrants - a record in Sweden those days.
Champis then was 4,5 years old.

Caccia Monsignore goes on living through his grandchildren, G/GG/GGG-children - including showchampions as well as field-trial champions.